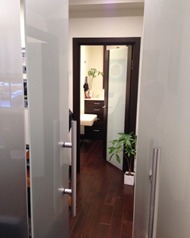 Download this questionnaire

for your initial visit:

Your Visit
We should all expect a lot from our physicians. Physicians are there for you. My view of a physician is one who is sincere and has close relationships with patients; one who always practices a cause-oriented approach for every medical sign and symptom. A physician should not be quick to give a medication or nutraceutical to cover up a problem. S/he should discuss a variety of medical options, both medicinal and natural alike, addressing the risks and benefits of both, and always uses evidence-based medicine while staying abreast of the most current and pertinent medical literature. My goal is to strive to be that physician with every patient that I see.


​Arriving

Please arrive 10 minutes before your scheduled consultation. We do not overbook and everyone is seen during their allotted time slot. If there is a wait, it is an exception. We respect your time immensely. If you need to cancel, please call as soon as you find out you are unable to make your appointment.DressPlease dress comfortably. Do not wear any creams or perfumes to the office and please take off any nail polish.



What to Bring

Please bring in any bloodwork that you had done in the last five years. Radiologic studies such as mammographies, CT scans, etc, would be helpful as well. Bring a list of all the medications and supplements that you are on, including dosages. Have handy the phone number of your primary care physician and your pharmacy so that we can have that on file as needed. Feel free to bring a family member or a friend as that may make the visit even more enjoyable for you. Please refrain from bringing your adorable pets (yes, it has happened before).



What to Expect

On your first visit, you will have a 1 ½ hour consultation and physical examination with Dr. Kroner. Dr. Kroner does not have nurse practitioners or Physician assistants doing her physical exams for her. Dr. Kroner will take an in-depth look at your medical history and current concerns. She will also order blood work and other diagnostic tests that she deems necessary in order to help figure out the fundamental etiology behind the medical concerns. The exact medical rationale behind every test ordered will be explained to you so that you completely understand the diagnostic approach. A step by step plan will be outlined on the first and second visit once the pros and cons of all the available medical and nutritional options are reviewed. Dr. Kroner will keep you abreast of the medical and nutritional treatments available for your medical conditions. You will receive a binder that has all your medical information in it. This book will be added to after every visit. You will leave the office more in control of your medical issues than before you entered.



Tests

You will have your blood drawn at the center itself by our trained phlebotomist or nurse. A significant portion of the blood will be sent out to a lab that your insurance company participates in, such as Enzo, LabCorp or Quest. Some blood work may be processed in the center. Dr. Kroner will also refer you as necessary to state of the art radiologic facilities where you will efficiently be seen, as needed.



Billing

Advanced Medicine of New York, PLLC is a fee for service center which means that you get ample time with the physician, you are seen on time, and develop a personal and lasting relationship with the office. You will get premier medical care as we take your health seriously and respect your time. To clarify, Dr. Zina Kroner does not accept or participate with any insurance or HMO of any kind. We are happy to provide you with a "super-bill" at the end of each visit. It will contain a list of services rendered and appropriate diagnostic codes that your insurance company will recognize. Once you pay for the services rendered, we will be happy to electronically submit the insurance paperwork on your behalf. This saves you a lot of hassle. Reimbursement is dependent upon each patient's individual insurance carrier. The only exception is Medicaid and Medicare. Because Dr. Kroner opted out of Medicaid and Medicare, the bills cannot be submitted for reimbursement.



Your Primary Care Doctor

Please note that our center has chosen not to be affiliated with a hospital. This way we can better tend to your medical concerns during working hours. Due to this, we encourage all our patients to have a relationship with a primary care physician whose team is available to tend to all emergencies that you may have. We gladly will talk to your primary care physician about your treatment plan at our center. We will be happy to provide you with a referral to a board certified physician for your emergency needs. On a select basis, Dr. Kroner can be your primary care provider. Dr. Kroner will be happy to discuss this with you.



Phone Calls/ Emails

We are always happy to receive your phone calls and emails. We want to hear about your medical updates and concerns. This system of open and frequent dialogue is necessary for you to succeed in health. If a message is left with the front desk during the doctor's working day, the doctor will call back that same day. Please be sure to provide alternate numbers where you can be reached. If you call when the office is closed, your phone call will be returned on the day that the doctor is scheduled to work. If your concern is involved, please be sure to schedule an appointment. Emails are for non-urgent administrative or medical inquiries. Thank you for understanding.

Inquiries:
Please feel free to drop us a note should you have any questions.